MEET OUR BISHOP
Bishop N.C. Johnson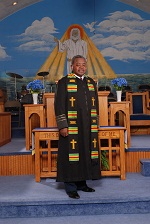 Bishop Nathaniel C. Johnson was born in Newport News, Virginia to the late Bishop King David and Dorcas Gray Johnson. He is a graduate of Westside High School in Smithfield and attended St. Leo College. He is married to Sharon L. Johnson and together they are the proud parents of two daughters, Michele and Marshe' and has since been blessed with two son-in-laws and four grandchildren.
Bishop Johnson has been preaching since 1980 and pastoring since 1987. While in the military, he traveled extensively overseas and had the opportunity to pastor the base chapel while stationed in Baubenhausen, Germany. His last six years in the military were spent at Fort Drum, New York. While there, he was inspired by God to build a new sanctuary for soldiers, their dependents and civilians as well. In 1990, the edifice was completed and today it is still a haven for all people. Bishop retired from the Army in 1991 as a Chief Warrant Officer. During his ministry, many souls have been saved, marriages reconciled and drug addicts delivered.
In the year 2000, Bishop Johnson was graced with God's wisdom once again to create a new thing "Drive Thru Prayer"! Yes, this innovative idea took him from the peanut fields of Carrollton to the bright lights of Hollywood to star in the national televised show "To Tell The Truth".
From his youth, he has always been musically inclined. The Lord has blessed him with the release of his first CD entitled "He Has the Whole World In His Hands" and with God's continued anointing, additional CDs are forthcoming.
It is Bishop's desire to help people to pay thier bills, as a result, he has organized the H.E.L.P. Program – "Helping Everyone Live Prosperously". At our initial H.E.L.P. conference, over four thousand dollars ($4000.00) were given to various individuals. In Addition, Bishop Johnson has established the BLE$$ING$ GIVAWAY and periodically,one hundred dollars ($100.00) are given away at Sweet Haven. With God's help, he hopes to increase this amount to one thousand dollars ($1,000.00) on any given Sunday.
Bishop Johnson is currently the pastor of Sweet Haven Holy Church of God #1 in Carrollton, Virginia. In addition, he is General Overseer of Sweet Haven Holy Church of God #3 in Watertown, New York.
First Lady Sharon L. Johnson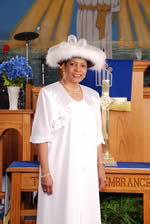 First Lady Johnson is a former resident of Newport News and the youngest of three children born to Mr. Wallace Johnson and the Late Mrs. Mildred Johnson. She is married to The Honorable Bishop Nathaniel C. Johnson and currently resides in Carrollton, Virginia. They are the proud parents of two daughters and also have two son-in-laws and four grandchildren.
The military career of her husband enabled her to travel stateside and overseas, including Germany and Italy. First Lady Johnson attended the Newport News Public School System and was an honor graduate of Carver High School. Some of her qualities are professionalism, efficiency and reliability. She has received several certificates of achievements in Management Development and Supervision. In addition, she was presented an award in appreciation and recognition of ten (10) years of employment with Social Services in the Commonwealth of Virginia. While employed with the Newport News Department of Social as an Eligibility Supervisor, First Lady Johnson conducted several employee training workshops, participated in many seminars and represented the agency on numerous public speaking engagements.
First Lady Johnson is a member of Sweet Haven Holy Church of God in Carrollton Virginia where her husband, Bishop Johnson, is pastor. Most important, she is saved and loves the Lord. God definitely has priority in her life as in 1997, after thirteen years (13) of employment with the Norfolk Postal Service, she decided to stop working and dedicate her time to assisting Bishop Johnson with the ministry.